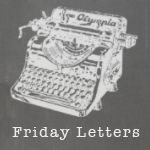 Today, I'm linking up with the gorgeous Ashley, at Adventures of the Newlyweds, for my first ever "friday letters"
Dear hubby -
t
his past sunday marked our 1 year anniversary, and it couldn't have been greater! I love our weekend mornings on the porch sipping on coffee, battling it out on song pop, and playing with our furchild. Thank you so much for my beautiful watch, gorgeous anniversary figurine, and awesome paper roses! You are the sweetest, most thoughtful man I know, and I can't wait to celebrate many many more years together! Hope you liked your present too ;)
Dear Momma, Daddy, Momma Linda, Daddy Bob, and Sean
-
thank you so much for spending sunday with us and celebrating our first year! Nothing better than fellowship of family, yummy eats (homemade sketti), and Sunday Football. We love our flower arrangement basket and wine glass holder/set! They go perfectly in our kitchen! And another thanks to the Brown's for our house warming gift, that beauty of a firepit to keep us warm during the colder nights!
Dear furchild (aka Elvis)-
I love you more than anything, but would really really appreciate it, if you could stop playing in your poo while i'm at work. You have plenty of room to not make a mess, and I know you hate the bathing that is coming to you, once I'm home. I still love you with all my heart though :)
Dear NY Giants
-
I am so excited to wear my VS comfy's and cheer you on sunday night!! Let's pull out a win!
Dear Self -
seriously get busy with the jewelry. It's football season and you need to get crackin...you've already sold two bracelets, and you've got gobs of beads just waiting to put together so they can be somebodies arm candy!
Dear UK Football
- could you try and not suck this weekend. I really don't mind a loss, as long as were competitive, meaning we score atleast one touchdown. Cause if you continue to play like you are, Elvis is not gonna let me dress him up anymore on gameday, and let's face it, he's awful freaking cute sporting the blue and white!